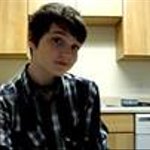 Tristan Sites
Tristan. Male. Pansexual. Submissive. Has a cat. Plays Animal Crossing. Enjoys Legend of Zelda, Batman Comics, Young Justice, Doctor Who, and senseless cartoons. The main reason I got this account was so that I could pay for my move to Canada! You can read more about that on my Tumblr; soon I'll have a request/price list page set up for fic and art commissions. http://suckmyrichardgrayson.tumblr.com Tristan Sites joined Society6 on November 29, 2013
More
Tristan. Male. Pansexual. Submissive. Has a cat. Plays Animal Crossing. Enjoys Legend of Zelda, Batman Comics, Young Justice, Doctor Who, and senseless cartoons.
The main reason I got this account was so that I could pay for my move to Canada! You can read more about that on my Tumblr; soon I'll have a request/price list page set up for fic and art commissions.
http://suckmyrichardgrayson.tumblr.com
Tristan Sites joined Society6 on November 29, 2013.