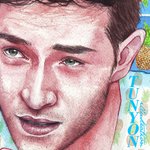 Tunyon
Welcome! I am Veronica Tuñon (aka Tunyon), an Illustrator from Barcelona, Spain. I have grown between pencils and colored pencils, and now, after learning, improving and discovering many techniques of drawing, I have recieved my degree in Illustration (CFGS). The technique I use is traditional art and despite having played different styles of drawing, the treatment of image that define me are portraits. Tunyon joined Society6 on December 13, 2014
More
Welcome! I am Veronica Tuñon (aka Tunyon), an Illustrator from Barcelona, Spain.
I have grown between pencils and colored pencils, and now, after learning, improving and discovering many techniques of drawing, I have recieved my degree in Illustration (CFGS).
The technique I use is traditional art and despite having played different styles of drawing, the treatment of image that define me are portraits.
Tunyon joined Society6 on December 13, 2014.