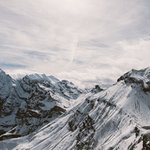 Twenty One Beds
The photographic collection of a 23 year old's Europe exploration.
Twenty One Beds is the abbreviated title. But in fact there was 21 beds, one tent, a park in museum island, one airport, 4 planes, 3 chairs pushed together in a hostel bar, 1 train station and countless buses.
These photographs aim to capture my fascination of cultural diversity, ranging from the physical exterior appearances, the diverse traditional dishes and the civilians within those societies.
Follow www.twentyonebeds.tumblr.com for weekly updates.
All images remain the copyright of Jessica Prince
Read more
Twenty One Beds's Store
27 results
Filter