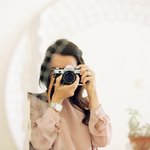 Hello Twiggs
My name is Claudia, also known as Twiggs and I am a lifestyle wedding photographer, with love for all beautiful details that surround me. I live in Lisbon and I think this city is one my main sources of inspiration! My work reflects my daily life and the details my eyes catch and search for in nature and other surroundings. By doing this exercise every day, I find myself a happy girl, as beauty is all around. >> blog: http://www.aplacefortwiggs.com/ >> portfolio: http://www.hellotwiggs.com/ >> instagram: http://www.instagram.com/hellotwiggs the other shops: >> http://www.etsy.com/shop/hellotwiggs >> http://www.etsy.com/shop/twiggsdesigns Hello Twiggs joined Society6 on June 17, 2011
More
My name is Claudia, also known as Twiggs and I am a lifestyle wedding photographer, with love for all beautiful details that surround me. I live in Lisbon and I think this city is one my main sources of inspiration! My work reflects my daily life and the details my eyes catch and search for in nature and other surroundings. By doing this exercise every day, I find myself a happy girl, as beauty is all around.
blog: http://www.aplacefortwiggs.com/ portfolio: http://www.hellotwiggs.com/ instagram: http://www.instagram.com/hellotwiggs
the other shops:
http://www.etsy.com/shop/hellotwiggs http://www.etsy.com/shop/twiggsdesigns
Hello Twiggs joined Society6 on June 17, 2011.
Mod Style In Yellow_Bag Hoodies by Hello Twiggs
25 results
Filter