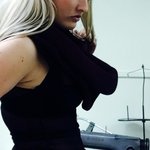 Twist of Edgygence
I'm a Women's Wear Fashion Designer located in New York City. Originally from Utah. I haven't lost touch of my roots. I hold them dear to my heart. I take inspiration from everywhere I go, and am inspired by all forms of beauty. I see art in a bit of everything, and just wish to create beauty in this world. Travel, exposure, inspiration, and and open mind are essential to living a full life. Twist of Edgygence joined Society6 on August 9, 2014
More
I'm a Women's Wear Fashion Designer located in New York City. Originally from Utah. I haven't lost touch of my roots. I hold them dear to my heart. I take inspiration from everywhere I go, and am inspired by all forms of beauty. I see art in a bit of everything, and just wish to create beauty in this world.
Travel, exposure, inspiration, and and open mind are essential to living a full life.
Twist of Edgygence joined Society6 on August 9, 2014.
Twist of Edgygence's Store
105 results
Filter