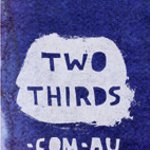 Two Thirds
www.twothirds.com.au Graphic Designer based in Central Queensland Australia. I have found inspiration on the society6 site for awhile and very excited to finally upload - feel free to get in touch. My styles are varied and I hope to share them here with you. Contact me directly on marie@twothirds.com.au if I can help you out with anything or if you want any design on a different product. Two Thirds joined Society6 on August 6, 2012
More
www.twothirds.com.au
Graphic Designer based in Central Queensland Australia.
I have found inspiration on the society6 site for awhile and very excited to finally upload - feel free to get in touch.
My styles are varied and I hope to share them here with you.
Contact me directly on marie@twothirds.com.au if I can help you out with anything or if you want any design on a different product.
Two Thirds joined Society6 on August 6, 2012.