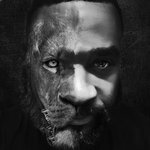 Tyvenchy
I am creative soul. I'm a believer in positive energy in the effect that if you put positive energy into anything that you do that nothing but great things will come out of it. I have a huge passion for art and design and I am constantly inspired by the work of other artist and designers to continue to exceed my own expectations of becoming a great designer and artist day by day. I am self-driven, hard working, and dedicated to anything that I set my mind to. I went to art and design school at the Art Institute in Charlotte, North Carolina where I studied graphic and web design. I left the school at the top of my class on The Presidents List and Dean's List. Last year I started my own design company called TG Brand Group. Even though it's only me right now, i'm looking to bring on more designers this year as my client bases continues to grow. Tyvenchy joined Society6 on November 11, 2013
More
I am creative soul. I'm a believer in positive energy in the effect that if you put positive energy into anything that you do that nothing but great things will come out of it. I have a huge passion for art and design and I am constantly inspired by the work of other artist and designers to continue to exceed my own expectations of becoming a great designer and artist day by day. I am self-driven, hard working, and dedicated to anything that I set my mind to.
I went to art and design school at the Art Institute in Charlotte, North Carolina where I studied graphic and web design. I left the school at the top of my class on The Presidents List and Dean's List. Last year I started my own design company called TG Brand Group. Even though it's only me right now, i'm looking to bring on more designers this year as my client bases continues to grow.
Tyvenchy joined Society6 on November 11, 2013.