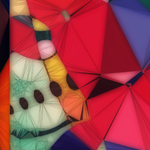 Arnold Hayes
My name is Arnold Hayes and I have been an artist for over 20 years, I now create art using the medium of the Iphone and Ipad. With my subject matter I capture daily aspects of life, abstract compositions and portraits.I am a painter and illustrator by nature so you will see this style in my artwork. Texture, color and composition are the elements I focus on when creating a piece. I started drawing and painting in the second grade and I have never looked back since. I have used the mediums of Acrylic, Watercolor, Graphite and Digital. I studied art formally in high school and some college courses. I have also displayed my artwork in Galleries and group shows. I believe we are at a turning point in the history of Art. Things will never be the same in the creative world thanks to technology. I embrace this world with passion and vision. www.gwordinart.com Arnold Hayes joined Society6 on March 15, 2014
More
My name is Arnold Hayes and I have been an artist for over 20 years, I now create art using the medium of the Iphone and Ipad. With my subject matter I capture daily aspects of life, abstract compositions and portraits.I am a painter and illustrator by nature so you will see this style in my artwork. Texture, color and composition are the elements I focus on when creating a piece.
I started drawing and painting in the second grade and I have never looked back since. I have used the mediums of Acrylic, Watercolor, Graphite and Digital. I studied art formally in high school and some college courses. I have also displayed my artwork in Galleries and group shows.
I believe we are at a turning point in the history of Art. Things will never be the same in the creative world thanks to technology. I embrace this world with passion and vision.
www.gwordinart.com
Arnold Hayes joined Society6 on March 15, 2014.
Arnold Hayes's Store
139 results
Filter