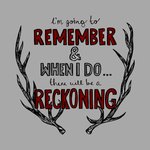 typelocked
I've been hand drawing quotes for a while because of my love for typography, but the whole fandom text business began because there was a quote in The Empty Hearse that I of course needed to make into a t-shirt. I'm happy to do custom designs and commissions... contact me on here or on typelocked.tumblr.com If you want any of these shirts in custom colors, please let me know! I'd be happy to make you a custom listing. typelocked joined Society6 on March 7, 2014
More
I've been hand drawing quotes for a while because of my love for typography, but the whole fandom text business began because there was a quote in The Empty Hearse that I of course needed to make into a t-shirt.
I'm happy to do custom designs and commissions... contact me on here or on typelocked.tumblr.com
If you want any of these shirts in custom colors, please let me know! I'd be happy to make you a custom listing.
typelocked joined Society6 on March 7, 2014.