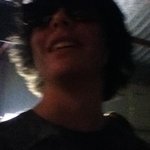 Tyler Zumach
I guess I'm an artist, its seems pretty egotistical to say that doesn't it? Anyway, I like long walks on the beach, and I'm just screwing with you. In all seriousness I love music, I wake up to it, I fall asleep to it, it just embodies everything for me. I tried to write down every band I like and it took a long time but checking back through what I've listened to on Youtube, liked on Facebook or Soundcloud I got to over 130 bands and I realised, that wasn't even all of them, I knew that there were some I was forgetting or that I haven't heard for so long. Now even as I write this I'm going to a concert later, I will have seen The Naked and Famous. I might do some music related art to upload here, probably something to do with the Arctic Monkeys because who the hell doesn't love them or even the concept of a shirt with monkeys in winter coats, it should be fun. Another thing is I heavily believe in love, it's powerful isn't it? It makes us and breaks us EVERY DAY whether we even see it or not, and even with loving things, like music, you can hear a song you feel so strongly in tune with and it can change your day. Music is art. Love is art. EVERYTHING is art. "Have you ever been in love? Horrible isn't it? It makes you so vulnerable. It opens your chest and it opens up your heart and it means that someone can get inside you and mess you up." ― Neil Gaiman Tyler Zumach joined Society6 on October 12, 2013
More
I guess I'm an artist, its seems pretty egotistical to say that doesn't it? Anyway, I like long walks on the beach, and I'm just screwing with you. In all seriousness I love music, I wake up to it, I fall asleep to it, it just embodies everything for me. I tried to write down every band I like and it took a long time but checking back through what I've listened to on Youtube, liked on Facebook or Soundcloud I got to over 130 bands and I realised, that wasn't even all of them, I knew that there were some I was forgetting or that I haven't heard for so long. Now even as I write this I'm going to a concert later, I will have seen The Naked and Famous. I might do some music related art to upload here, probably something to do with the Arctic Monkeys because who the hell doesn't love them or even the concept of a shirt with monkeys in winter coats, it should be fun. Another thing is I heavily believe in love, it's powerful isn't it? It makes us and breaks us EVERY DAY whether we even see it or not, and even with loving things, like music, you can hear a song you feel so strongly in tune with and it can change your day. Music is art. Love is art. EVERYTHING is art.
"Have you ever been in love? Horrible isn't it? It makes you so vulnerable. It opens your chest and it opens up your heart and it means that someone can get inside you and mess you up." 

― Neil Gaiman
Tyler Zumach joined Society6 on October 12, 2013.