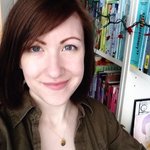 uberwren
Official merchandise and artwork for Carmen the überwren. I make videos on YouTube about books, anime, kpop, or just about anything. I also go to anime conventions like Otakon and Katsucon and film convention videos diaries. You can check me out on... YouTube https://www.youtube.com/user/uberwren Twitter http://twitter.com/uberwren Tumblr http://uberwren.tumblr.com/ Facebook https://www.facebook.com/uberwren Instagram http://instagram.com/uberwren Ask.FM http://ask.fm/uberwren I'm also a member of the YouTube dance group Dansu to Pantus! http://www.youtube.com/user/DansuToPansu uberwren joined Society6 on May 21, 2014
More
Official merchandise and artwork for Carmen the überwren.
I make videos on YouTube about books, anime, kpop, or just about anything. I also go to anime conventions like Otakon and Katsucon and film convention videos diaries. You can check me out on...
YouTube https://www.youtube.com/user/uberwren Twitter http://twitter.com/uberwren Tumblr http://uberwren.tumblr.com/ Facebook https://www.facebook.com/uberwren Instagram http://instagram.com/uberwren Ask.FM http://ask.fm/uberwren
I'm also a member of the YouTube dance group Dansu to Pantus! http://www.youtube.com/user/DansuToPansu
uberwren joined Society6 on May 21, 2014.