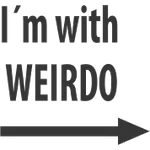 WeirdoDesigns
Welcome to my designs, private art, fun graphics, and stupid T-Shirts for sale. They might be funny and wacky but they are sure to put a smile on your face. Keep checking my shop for new items and I promise that every design will be printable on all possible products from bed spread to iPad case so you won't ever have to pick and choose based on if it comes in this or that... It comes in every form. WeirdoDesigns joined Society6 on October 22, 2014
More
Welcome to my designs, private art, fun graphics, and stupid T-Shirts for sale. They might be funny and wacky but they are sure to put a smile on your face.
Keep checking my shop for new items and I promise that every design will be printable on all possible products from bed spread to iPad case so you won't ever have to pick and choose based on if it comes in this or that... It comes in every form.
WeirdoDesigns joined Society6 on October 22, 2014.