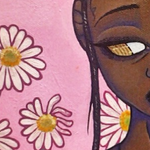 Uduak Ita
My name is Uduak Ita and I am a graphic designer and illustrator based in the Atlanta,Ga. My work includes illustrations and designs that embody concepts both concrete and abstract about a multitude of topics both serious and playful, joyous and saddening, and all manners of being in between as well as art for arts sake! I find inspiration for creativity in all aspects of life and seek to make what I discover visible to others through my artwork. Learn more about me here: http://uduakitadesigns.wix.com/home#!about/cee5 or Follow me on: Facebook: https://www.facebook.com/UduakItaDesigns?fref=nf Uduak Ita joined Society6 on June 20, 2015
More
My name is Uduak Ita and I am a graphic designer and illustrator based in the Atlanta,Ga. My work includes illustrations and designs that embody concepts both concrete and abstract about a multitude of topics both serious and playful, joyous and saddening, and all manners of being in between as well as art for arts sake! I find inspiration for creativity in all aspects of life and seek to make what I discover visible to others through my artwork.
Learn more about me here: http://uduakitadesigns.wix.com/home#!about/cee5 or Follow me on: Facebook: https://www.facebook.com/UduakItaDesigns?fref=nf
Uduak Ita joined Society6 on June 20, 2015.
Uduak Ita's Store
15 results
Filter