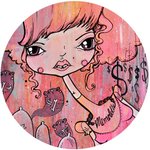 Ugly Yellow
I'm Tiffany - a freelance illustrator, artist, lover of glitter, and pet chicken raiser. I dabble in painting, illustration, poster art, and murals...All of which can be found in the nooks and crannies around Spokane, WA. My work celebrates little victories, tiny moments, happiness and humor. Check out my new website http://cursewordsandbirds.com/ ♥ Ugly Yellow joined Society6 on August 31, 2011
More
I'm Tiffany - a freelance illustrator, artist, lover of glitter, and pet chicken raiser. I dabble in painting, illustration, poster art, and murals...All of which can be found in the nooks and crannies around Spokane, WA. My work celebrates little victories, tiny moments, happiness and humor.
Check out my new website http://cursewordsandbirds.com/
♥
Ugly Yellow joined Society6 on August 31, 2011.