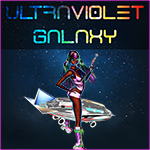 Ultra Violet Galaxy
The year is 2086. Using alien technology from the Roswell crash, scientists have developed spacecraft capable of traveling beyond the speed of light. Violet Ultra, bikini model and self proclaimed sci-fi geek, has crash landed on Solaria 4, a small planet in the HDF850.1 galaxy. Along with the rest of the U.N. bikini team, Violet was on a mission to Mars to cheer up our troops, engaged in a fierce battle with a menacing army of gray aliens known as the Gretok. HDF850.1, 12.6 billion light years from Planet Earth is invisible in optical light. However, when observed in Ultraviolet (UV) or Infrared (IR) Light, the HDF850.1 Galaxy, stars, planets, alien inhabitants...and the bikini team are revealed in dazzling full color. Fortunately, ships Captain Sebastian Langham, skilled in pin-up and outdoor photography, has captured images that enable us to see colors and shapes that no human eye had ever been able to detect - and these new colors reveal fantastic objects that were previously invisible! Have a look around...some of the most amazing celestial bodies in the Universe are visible only in light beyond the rainbow of colors that people can see... Ultra Violet Galaxy joined Society6 on March 19, 2016
More
The year is 2086. Using alien technology from the Roswell crash, scientists have developed spacecraft capable of traveling beyond the speed of light.
Violet Ultra, bikini model and self proclaimed sci-fi geek, has crash landed on Solaria 4, a small planet in the HDF850.1 galaxy. Along with the rest of the U.N. bikini team, Violet was on a mission to Mars to cheer up our troops, engaged in a fierce battle with a menacing army of gray aliens known as the Gretok.
HDF850.1, 12.6 billion light years from Planet Earth is invisible in optical light. However, when observed in Ultraviolet (UV) or Infrared (IR) Light, the HDF850.1 Galaxy, stars, planets, alien inhabitants...and the bikini team are revealed in dazzling full color.
Fortunately, ships Captain Sebastian Langham, skilled in pin-up and outdoor photography, has captured images that enable us to see colors and shapes that no human eye had ever been able to detect - and these new colors reveal fantastic objects that were previously invisible!
Have a look around...some of the most amazing celestial bodies in the Universe are visible only in light beyond the rainbow of colors that people can see...
Ultra Violet Galaxy joined Society6 on March 19, 2016.