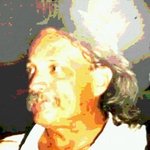 Pete Spera
Peter Spera is an artist who is a surfer, drummer, Vietnam Veteran, free spirit and a life long resident of St. Petersburg, Florida. Biography: Peter Charles Spera was born January 6, 1948 in Cleveland Ohio to Edward and Rita Spera. At the age of two his family relocated to St. Petersburg, Florida where he still resides today. His interest in art started to bloom while his was attending Seminole High School. His art teacher had displayed his artwork in a showcase until it was later pointed out to her that there were several obscene words worked into the piece that were not easily noticed. Upon high school graduation, Peter was drafted into the army and served during the Vietnam War. After three and half years of service, he was honorably discharged and attended St. Petersburg College on the G.I. bill where he took additional art classes. Even though Peter was an artistic and musical individual, he decided on a career in electronic repairs where he would be gainfully employed. During his career, Peter continued to play drums, surf, and draw in the mornings before work. At age 62, Peter retired and was able to unleash his artistic abilities. Often, he spends several hours in the early morning at his drafting table creating his artwork. His artwork is influenced by his experiences with the Vietnam War, the sixties movement, music, the ocean, and Florida fauna. Some of his artwork features specific subjects; other pieces focus on geometric shapes, while others are free association. Many of his works are designed so that they reveal different aspects depending on the lighting or the angle which it is viewed. Because of the intricacy of his work, each viewing offers a new experience. Pete Spera joined Society6 on September 29, 2014
More
Peter Spera is an artist who is a surfer, drummer, Vietnam Veteran, free spirit and a life long resident of St. Petersburg, Florida.
Biography: Peter Charles Spera was born January 6, 1948 in Cleveland Ohio to Edward and Rita Spera. At the age of two his family relocated to St. Petersburg, Florida where he still resides today. His interest in art started to bloom while his was attending Seminole High School. His art teacher had displayed his artwork in a showcase until it was later pointed out to her that there were several obscene words worked into the piece that were not easily noticed. Upon high school graduation, Peter was drafted into the army and served during the Vietnam War. After three and half years of service, he was honorably discharged and attended St. Petersburg College on the G.I. bill where he took additional art classes. Even though Peter was an artistic and musical individual, he decided on a career in electronic repairs where he would be gainfully employed. During his career, Peter continued to play drums, surf, and draw in the mornings before work.
At age 62, Peter retired and was able to unleash his artistic abilities. Often, he spends several hours in the early morning at his drafting table creating his artwork. His artwork is influenced by his experiences with the Vietnam War, the sixties movement, music, the ocean, and Florida fauna. Some of his artwork features specific subjects; other pieces focus on geometric shapes, while others are free association. Many of his works are designed so that they reveal different aspects depending on the lighting or the angle which it is viewed. Because of the intricacy of his work, each viewing offers a new experience.
Pete Spera joined Society6 on September 29, 2014.
Pete Spera 's Store
287 results
Filter