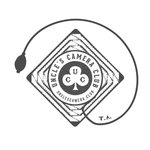 Uncle's Camera Club
Uncle's Camera Club is an art label founded by digital artist Tim Ashton. Tim has worked across photography, illustration, and high end retouching for 20 years, producing editorial illustrations, book covers, and working on ad campaigns with world leading photographers, brands, and agencies. Uncle's Camera Club serves as a creative playground for photographic experiments, often exploring the notion of photography as object and blurring the boundaries between photography and illustration. Many of the initial works revolve around an analogue aesthetic born of darkroom experimentation and montage. Much of the imagery is wholly created by the artist but also combines some vintage finds scanned from large format negatives. www.unclescameraclub.com Uncle's Camera Club joined Society6 on August 12, 2016
More
Uncle's Camera Club is an art label founded by digital artist Tim Ashton. Tim has worked across photography, illustration, and high end retouching for 20 years, producing editorial illustrations, book covers, and working on ad campaigns with world leading photographers, brands, and agencies. Uncle's Camera Club serves as a creative playground for photographic experiments, often exploring the notion of photography as object and blurring the boundaries between photography and illustration. Many of the initial works revolve around an analogue aesthetic born of darkroom experimentation and montage. Much of the imagery is wholly created by the artist but also combines some vintage finds scanned from large format negatives.
www.unclescameraclub.com
Uncle's Camera Club joined Society6 on August 12, 2016.