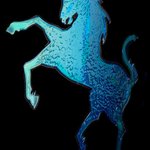 unicorndreams
I am a new artist from Bristol, I took up art a few years back and joined a few online free art sites. On these sites I have become more and more wellknown and have already a huge fan base worldwide. I am also on the international art register which is thrilling. From being on one of these art sites I was lucky enough to have been headhunted last year and was offered my own book of or this own book of art and poems, this book was published in December 2009, titled 'My Art Has Heart' isbn number 9781449035853, within the book it is full of art/poems of many endangered creatures which I adore, and much much more. I use pastels,watercolours,digital computer art,and photography. www.unicorndreams.net If you are interested in contacting me for a commission feel free to email on dawnstorm78@hotmail.com unicorndreams joined Society6 on March 18, 2013
More
I am a new artist from Bristol, I took up art a few years back and joined a few online free art sites. On these sites I have become more and more wellknown and have already a huge fan base worldwide. I am also on the international art register which is thrilling. From being on one of these art sites I was lucky enough to have been headhunted last year and was offered my own book of or this own book of art and poems, this book was published in December 2009, titled 'My Art Has Heart' isbn number 9781449035853, within the book it is full of art/poems of many endangered creatures which I adore, and much much more. I use pastels,watercolours,digital computer art,and photography.
www.unicorndreams.net
If you are interested in contacting me for a commission feel free to email on dawnstorm78@hotmail.com
unicorndreams joined Society6 on March 18, 2013.
unicorndreams's Store
125 results
Filter