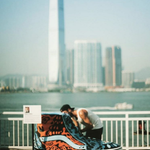 Usedpencil
Usedpencil is a talented new illustrator with fresh ideas and original techniques.
After studying Fine Art, Sculpture and getting a degree in Illustration, Usedpencil set off in search of inspiration. He spent time working on personal projects - walking the streets, travelling, talking and collecting old, forgotten and fashionable things.
Using a fine blend of intelligent thinking, creative wizardry and some common sense, Usedpencil puts the human touch into all of his pieces. Whether he draws, cuts, sticks or clicks, every piece starts on the desk and is later fine-tuned using the computer.
His style has been on a steady course of development, starting with character- based illustration. Now he has infused it with collage and paint to make a more unique, witty blend of understandable and aesthetically pleasing images.
Drawing on our ever-changing social scene and diverse contemporary culture, Usedpencil creates images which reflect the modern word. Whether he is pointing out problems , emphasising beauty or just plain poking fun at humans and their strange habits.
Usedpencil has bucket loads of ammunition to help bring text to life, to teach or entertain - ready to add some visual beauty to the world. www.usedpencil.co.uk
Read more