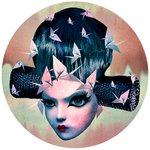 Valentina Brostean
I am multi disciplinary visual artist from Novi Sad, currently based in Italy. I have more than 10 years of experience in the creative business, where i mostly dedicated my skills and passion to illustration field - working in fashion, editorial, publishing industry (using both traditional and digital media) as well as in graphic design field covering creative and art direction for clients spanning art, culture and commerce. My work is characteristic for it's strong and expressive, cutting edge visual language and wild imagination. I seek for powerful solutions for creative and brave clients, applying bold aesthetics and surprising outputs across all platforms, often using collage technique which is my most recognizable signature. My creations have been described as wild, playful and serious, and i strive to keep the balance but not loose my weird lucid personal touch. I have collaborated on various art projects internationally and i have as well participated in diverse significant solo and group gallery shows. Currently i'm working as an independent multi- disciplinary artist focusing on my personal self expression through the creative process while collaborating with worldwide agencies, companies, individuals and also galleries on various projects which allow me to apply my eclectic creativity. Check out my other social media profiles: ​Personal website: www.valentinabrostean.com Represented by Illozoo creative agency, USA http://www.illozoo.com/portfolio/valentina-brostean/ For UK market represented by Inky Illustration Agency, London https://www.inkyillustration.com/valentina-brostean BEHANCE PORTFOLIO: https://www.behance.net/valentinabrostean LINKEDIN: https://www.linkedin.com/in/valentinabrostean INSTAGRAM: https://www.instagram.com/art_of_valentina_brostean/ FACEBOOK: https://www.facebook.com/VALENTINA.BROSTEAN Valentina Brostean joined Society6 on February 8, 2013
More
I am multi disciplinary visual artist from Novi Sad, currently based in Italy. I have more than 10 years of experience in the creative business, where i mostly dedicated my skills and passion to illustration field - working in fashion, editorial, publishing industry (using both traditional and digital media) as well as in graphic design field covering creative and art direction for clients spanning art, culture and commerce. My work is characteristic for it's strong and expressive, cutting edge visual language and wild imagination. I seek for powerful solutions for creative and brave clients, applying bold aesthetics and surprising outputs across all platforms, often using collage technique which is my most recognizable signature. My creations have been described as wild, playful and serious, and i strive to keep the balance but not loose my weird lucid personal touch. I have collaborated on various art projects internationally and i have as well participated in diverse significant solo and group gallery shows. Currently i'm working as an independent multi- disciplinary artist focusing on my personal self expression through the creative process while collaborating with worldwide agencies, companies, individuals and also galleries on various projects which allow me to apply my eclectic creativity.
Check out my other social media profiles:
​Personal website: www.valentinabrostean.com
Represented by Illozoo creative agency, USA http://www.illozoo.com/portfolio/valentina-brostean/
For UK market represented by Inky Illustration Agency, London https://www.inkyillustration.com/valentina-brostean
BEHANCE PORTFOLIO: https://www.behance.net/valentinabrostean LINKEDIN: https://www.linkedin.com/in/valentinabrostean INSTAGRAM: https://www.instagram.com/art_of_valentina_brostean/ FACEBOOK: https://www.facebook.com/VALENTINA.BROSTEAN
Valentina Brostean joined Society6 on February 8, 2013.