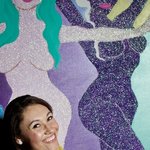 Valentinas Vanity Artwork
Greetings! My name is Vanity and I am a mixed medium fine artist who specializes in SPARKLE, DIMENSION, COLOR and CURVES! See more of my work and follow me at the following... www.facebook.com/ArtworkbyVanityValentina www.valentinasvanity.com instagram @captglitzsultryglam CONTACT ME IF INTERESTED IN A COMMISSION! I CAN CREATE ANYTHING YOUR HEART DESIRES! vanitysabelnik@yahoo.com Valentinas Vanity Artwork joined Society6 on January 3, 2014
More
Greetings! My name is Vanity and I am a mixed medium fine artist who specializes in SPARKLE, DIMENSION, COLOR and CURVES! See more of my work and follow me at the following...
www.facebook.com/ArtworkbyVanityValentina
www.valentinasvanity.com
instagram @captglitzsultryglam
CONTACT ME IF INTERESTED IN A COMMISSION! I CAN CREATE ANYTHING YOUR HEART DESIRES! vanitysabelnik@yahoo.com
Valentinas Vanity Artwork joined Society6 on January 3, 2014.