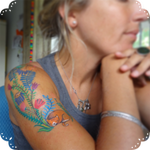 Valeria Cis
Hi! I'm Valeria Cis, a children book illustrator living in Argentina; here I was born lots of years ago. You can see my job at my site www.valeriacis.com. I named my studio "La Casuni" where I spend most of my time, working, painting, drawing, thinking, e-mailing, reading and drinking lots of cups of coffee (with milk) a day. I'm also a mother of two kids: Facundo and Olivia and love to enjoy with them. At my store, I sell prints, stickers, rubber stamps, postcards and magnetic printouts. Come along and have a cup of coffee at La Casuni any time! Valeria Cis joined Society6 on September 28, 2011
More
Hi! I'm Valeria Cis, a children book illustrator living in Argentina; here I was born lots of years ago. You can see my job at my site www.valeriacis.com.
I named my studio "La Casuni" where I spend most of my time, working, painting, drawing, thinking, e-mailing, reading and drinking lots of cups of coffee (with milk) a day.
I'm also a mother of two kids: Facundo and Olivia and love to enjoy with them.
At my store, I sell prints, stickers, rubber stamps, postcards and magnetic printouts.
Come along and have a cup of coffee at La Casuni any time!
Valeria Cis joined Society6 on September 28, 2011.