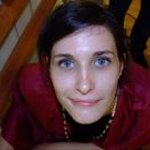 Valeria Draws
When she was three years old she started revamping her parents' house walls. Then she discovered paper and pencils. She never stopped painting and drawing since and is now trying to make a living as a visual artist. She currently lives and works in Rome. She likes bright colors, Christmas lights and kosher brownies. Valeria Draws joined Society6 on July 3, 2012
More
When she was three years old she started revamping her parents' house walls. Then she discovered paper and pencils. She never stopped painting and drawing since and is now trying to make a living as a visual artist.
She currently lives and works in Rome.
She likes bright colors, Christmas lights and kosher brownies.
Valeria Draws joined Society6 on July 3, 2012.