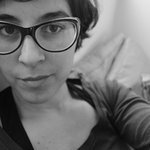 Valeria Primost
Valeria is a self taught designer based in Buenos Aires, Argentina. She is a multifaceted artist holding a BA in performing arts from the Amsterdam Arts University (ahk.nl) specializing in music and dance improvisation and contemporary choreography, and photo and video performance. She has made work as a resident artist in institutions like the Laban Center in London; Akiyoshidai International Arts Village, in Japan; Bimhuis and Van Gogh Museum of Amsterdam, amongst others. Valeria Primost joined Society6 on December 17, 2015
More
Valeria is a self taught designer based in Buenos Aires, Argentina.
She is a multifaceted artist holding a BA in performing arts from the Amsterdam Arts University (ahk.nl) specializing in music and dance improvisation and contemporary choreography, and photo and video performance.
She has made work as a resident artist in institutions like the Laban Center in London; Akiyoshidai International Arts Village, in Japan; Bimhuis and Van Gogh Museum of Amsterdam, amongst others.
Valeria Primost joined Society6 on December 17, 2015.