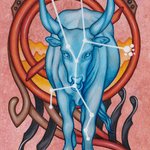 Valerie Anderson Art
I'm and artist and illustrator, and currently spend my time split between my rural, Pennsylvania home town and New York. Drawing inspiration from nature and working primarily with acrylic paint, my artwork takes on a colorful, surreal, and illustrative style. Select original artwork can be found at: www.etsy.com/shop/valerieandersonart Check me out on: Instagram: @valerieandersonart Facebook: Valerie Anderson Art Twitter: @VAndersonArt Web: www.VAndersonArt.com Valerie Anderson Art joined Society6 on August 4, 2014
More
I'm and artist and illustrator, and currently spend my time split between my rural, Pennsylvania home town and New York. Drawing inspiration from nature and working primarily with acrylic paint, my artwork takes on a colorful, surreal, and illustrative style.
Select original artwork can be found at: www.etsy.com/shop/valerieandersonart
Check me out on: Instagram: @valerieandersonart Facebook: Valerie Anderson Art Twitter: @VAndersonArt Web: www.VAndersonArt.com
Valerie Anderson Art joined Society6 on August 4, 2014.