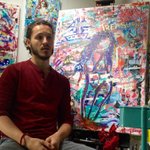 likeitartloveit
www.likeitartloveit.com @likeitartloveit My artwork is a mixture of the vibrant daydreams and real-life events which shape my reality. The details, colors and imperfections found in my paintings reflect who I am as a person; a flawed, ever-thinking perfectionist. I have always been drawn to the streets as well as the mountains, constantly seeking balance. The cosmos calls my name and leaves me in search of answers in the chaos. Answers I seek to find in art. Surreal, natural and human-made elements are prevalent in my artwork as well as magazine clippings of eyes and lips, renditions of the female form and text that channels positivity, vibrance and elevation. My art is meant to contain a sense of mystery, looking back at you as you try to decipher it's meaning. Crazy, colorful. -[va'sil] likeitartloveit joined Society6 on September 28, 2015
More
www.likeitartloveit.com
@likeitartloveit
My artwork is a mixture of the vibrant daydreams and real-life events which shape my reality. The details, colors and imperfections found in my paintings reflect who I am as a person; a flawed, ever-thinking perfectionist.
I have always been drawn to the streets as well as the mountains, constantly seeking balance. The cosmos calls my name and leaves me in search of answers in the chaos. Answers I seek to find in art.
Surreal, natural and human-made elements are prevalent in my artwork as well as magazine clippings of eyes and lips, renditions of the female form and text that channels positivity, vibrance and elevation.
My art is meant to contain a sense of mystery, looking back at you as you try to decipher it's meaning.
Crazy, colorful.
-[va'sil]
likeitartloveit joined Society6 on September 28, 2015.
likeitartloveit's Store
122 results
Filter