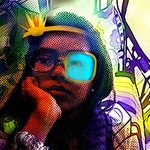 Vasundhara Prakash
I hate to admit it but it all started with me trying to make my facebook profile pictures more fun. I began with very simple manipulations on photographs, then moved to using existing photos, borrowed and found artworks to create something new. Then about a year ago I started drawing using a graphic tablet in Photoshop. Yay! for technology.
My method of using fragments, memories and moods is purely intuitive. And when it all comes together, the transformation is magical for me. The only conscious effort was to move away from the confines of perfection.
Each work has it's own hidden story, it's own secret life. If you find that secret, great! Otherwise make up your own – there's no wrong and right here.
what i try and make: http://www.flickr.com/photos/vasundharaprakash/ what i find and share: http://sprinkle-sparkling-spunk.tumblr.com/
Read more