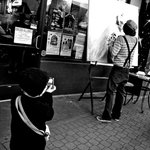 V.Bahns
Veronica is my name & viewing life through a camera is my preference. I am really interested in people being themselves. If you wait patiently, people will show you who they are & a moment is created which can be captured or it can just float away. Either way, those are the moments I wait for. I also enjoy Design, Metal, Stone & Wood objects & therefore try and capture everyday things that most would walk by and not notice. I would say in short I am a Mother • Wife • Photographer • Crossfitter & Creative. V.Bahns joined Society6 on August 5, 2012
More
Veronica is my name & viewing life through a camera is my preference. I am really interested in people being themselves. If you wait patiently, people will show you who they are & a moment is created which can be captured or it can just float away. Either way, those are the moments I wait for.
I also enjoy Design, Metal, Stone & Wood objects & therefore try and capture everyday things that most would walk by and not notice.
I would say in short I am a Mother • Wife • Photographer • Crossfitter & Creative.
V.Bahns joined Society6 on August 5, 2012.