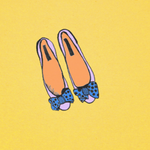 VecchioStudio
"Art washes away from the soul the dust of everyday life" – Pablo Picasso I am a Russian-American graphic artist and designer. I was born into an artistic family in St. Petersburg, Russia in 1988, studied under the world-renowned painter Irina Alexandrina from early childhood. After attending art and design school as a child, I continued to develop a distinctive graphic and representational style while pursued my PhD at St. Petersburg State University, which I was awarded in 2014. Currently, I am a working graphic designer and artist. My study of visual communications strategy and illustration is reflected in my work, along with echoes of the influence of a life lived abroad in Europe, Cyprus and the United States. Through acrylic and canvas, my work seeks to unite digital design with traditional artistic approaches to the natural world. From early impressionistic works with thick oil brush strokes on larger canvases, my style has evolved into smaller, more detailed discreet scenes with a graphic bent. A discerning eye can detect the influence of early Renaissance, Impressionist and Art Nouveau work in my pieces, as can homages to artists Paolo Uccello, Andrea Mantegna, Klimt, Monet and William Morris. I have had several exhibitions in Russia, Cyprus and the USA; my works are on display in Russian, American and Cypriot corporate collections and are enjoyed by private collectors all over the world. www.vecchiostudio.com https://www.etsy.com/shop/VecchioStudio VecchioStudio joined Society6 on December 15, 2016
More
"Art washes away from the soul the dust of everyday life" – Pablo Picasso
I am a Russian-American graphic artist and designer. I was born into an artistic family in St. Petersburg, Russia in 1988, studied under the world-renowned painter Irina Alexandrina from early childhood. After attending art and design school as a child, I continued to develop a distinctive graphic and representational style while pursued my PhD at St. Petersburg State University, which I was awarded in 2014.
Currently, I am a working graphic designer and artist. My study of visual communications strategy and illustration is reflected in my work, along with echoes of the influence of a life lived abroad in Europe, Cyprus and the United States.
Through acrylic and canvas, my work seeks to unite digital design with traditional artistic approaches to the natural world. From early impressionistic works with thick oil brush strokes on larger canvases, my style has evolved into smaller, more detailed discreet scenes with a graphic bent.
A discerning eye can detect the influence of early Renaissance, Impressionist and Art Nouveau work in my pieces, as can homages to artists Paolo Uccello, Andrea Mantegna, Klimt, Monet and William Morris.
I have had several exhibitions in Russia, Cyprus and the USA; my works are on display in Russian, American and Cypriot corporate collections and are enjoyed by private collectors all over the world.
www.vecchiostudio.com https://www.etsy.com/shop/VecchioStudio
VecchioStudio joined Society6 on December 15, 2016.