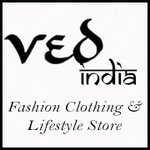 Ved India
VedIndia is an online store from Jaipur, India which showcases the work of artisans and designers from India. We sell the most vivacious range of designer men ethnic wears like indo-western suits, kurta pajama, etc. Amazing range of Indian cotton tapestries in all possible popular bohemian and Mandala patterns and prints. You can even shop for fashionable Indian jewelry, designer necklaces and earrings. All these products have been handcrafted by the artisans using the traditional designs and patterns by blending them for a trendy look to create perfect combination. At VedIndia.com you can shop online for exclusive traditional clothes for men like kurta pajama, dhoti kurta, angrakha, and wedding sherwanis to help them dress elegantly. We also have an amazing range of Indian and modern tapestry designs like sun and moon tapestry, zodiac tapestry, elephant tapestry, tree of life tapestry, Hindu God tapestry, hippie wall hanging, bohemian bedspreads and boho tapestries that suit different tastes to decorate your bedroom, living room and college dorm with colorful beddings, cushions covers and are made using 100% cotton fabric up for sale at cheap wholesale prices. Grab the most exquisite and stylish creations of designers and own these exquisite pieces in just one click. Ved India joined Society6 on July 24, 2015
More
VedIndia is an online store from Jaipur, India which showcases the work of artisans and designers from India. We sell the most vivacious range of designer men ethnic wears like indo-western suits, kurta pajama, etc. Amazing range of Indian cotton tapestries in all possible popular bohemian and Mandala patterns and prints. You can even shop for fashionable Indian jewelry, designer necklaces and earrings. All these products have been handcrafted by the artisans using the traditional designs and patterns by blending them for a trendy look to create perfect combination.
At VedIndia.com you can shop online for exclusive traditional clothes for men like kurta pajama, dhoti kurta, angrakha, and wedding sherwanis to help them dress elegantly. We also have an amazing range of Indian and modern tapestry designs like sun and moon tapestry, zodiac tapestry, elephant tapestry, tree of life tapestry, Hindu God tapestry, hippie wall hanging, bohemian bedspreads and boho tapestries that suit different tastes to decorate your bedroom, living room and college dorm with colorful beddings, cushions covers and are made using 100% cotton fabric up for sale at cheap wholesale prices.
Grab the most exquisite and stylish creations of designers and own these exquisite pieces in just one click.
Ved India joined Society6 on July 24, 2015.
Ved India's Store
362 results
Filter