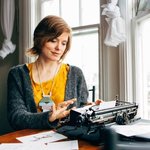 Venetia
Venetia Pristavec is a creator in many mediums including music, film, written word, stage and more. Her passion is being a creative vessel after taking ten years to recover from her fears of putting herself out into the world. She runs a boutique creative agency in San Francisco, makes something every day (heycreatedaily.com), has written two children's books (www.chloethecloudbook.com) and (www.everybodybegrateful.com) and loves to sing. The thread that ties everything together is storytelling. Her passions are connecting people to their most creative selves, nature, the body, and love. Thank you for stopping by ! www.venetiap.com Venetia joined Society6 on March 1, 2015
More
Venetia Pristavec is a creator in many mediums including music, film, written word, stage and more. Her passion is being a creative vessel after taking ten years to recover from her fears of putting herself out into the world.
She runs a boutique creative agency in San Francisco, makes something every day (heycreatedaily.com), has written two children's books (www.chloethecloudbook.com) and (www.everybodybegrateful.com) and loves to sing. The thread that ties everything together is storytelling.
Her passions are connecting people to their most creative selves, nature, the body, and love. Thank you for stopping by ! www.venetiap.com
Venetia joined Society6 on March 1, 2015.
Venetia's Store
61 results
Filter