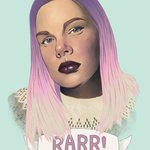 Vera Johansen
About Vera Johansen
Illustrator, UCF graduate, shantier, gamer, reader. According to friends: "geek", and they may be right...
As so many others I have been drawing all my life. In 2006 I finished a 3 year art education at high school level here in Norway. After that I jumped around for a bit, before starting an illustration degree at University College Falmouth in the UK in 2008. After graduating in 2011 I moved back to Norway, where I can be found at the moment. I can usually be recognized by my brightly coloured hair.
I can also be found on
www.verajohansen.com
as well as @vrarrr on twitter and instagram :)
Available for commissions and freelance work. Please contact me at hello@verajohansen.com
Vera Johansen joined Society6 on October 21, 2010.