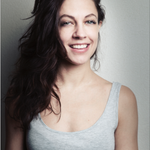 verak
Dear Costumers, Let met introduce myself, my name is vera and I graduated from Illustration at HKU (Hogeschool voor de Kunsten Utrecht) October 2016. So I can officially be called a freelance illustrator from now on. Five years ago I decided that I wanted to become an illustrator, because I really loved drawing. So I made my hobby my profession. And thats the reason Iam on Society6 to share my work with you in all kinds of printable ways. Hope you enjoy it =) verak joined Society6 on March 2, 2014
More
Dear Costumers, Let met introduce myself, my name is vera and I graduated from Illustration at HKU (Hogeschool voor de Kunsten Utrecht) October 2016. So I can officially be called a freelance illustrator from now on. Five years ago I decided that I wanted to become an illustrator, because I really loved drawing.
So I made my hobby my profession. And thats the reason Iam on Society6 to share my work with you in all kinds of printable ways. Hope you enjoy it =)
verak joined Society6 on March 2, 2014.