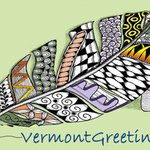 Vermont Greetings
Zentangle illustrations and photographs from Vermont and travels. Most of my family members are artists in one form or another, and this particular style of pattern repetition has been just the soothing mental relaxation that I needed recently. I like to tell a story most of the time, but sometimes just design for its own sake is beautiful. I am also a travel writer. One of my friends suggested that I try making products out of my 18 year long stock of photos, mostly yachts and beaches and beautiful places in the world, especially of Vermont where I have lived for 40 years. I have started treating my travel photos to look more like paintings, just because I like the look. You might have seen some of them on Inflight Magazines from Pace Communications, but they do look different after I play with them. Someone recently sent me a photo that she wanted made into a shower curtain as a bridal shower gift, and I did that. Then she bought it as a print, rather than a shower curtain, but everyone was happy with it. If you would like me to do that for you, just email me (brooke@CoastalStories.com) and we can discuss it. I am not interested in charging working with your photos, but it would probably be wise to have a conversation about it first. I hope you enjoy your tour, and please feel free to make a suggestion of anything that you would like to see! Also, I would really appreciate it if you would "promote" the ones that you like so that I can do more of that kind. I also have a Facebook page that you could follow in order to see new designs as they get posted. https://www.facebook.com/VermontGreetings If you "like" that page you will be the first to know! Enjoy the day, Brooke Vermont Greetings joined Society6 on October 10, 2013
More
Zentangle illustrations and photographs from Vermont and travels.
Most of my family members are artists in one form or another, and this particular style of pattern repetition has been just the soothing mental relaxation that I needed recently. I like to tell a story most of the time, but sometimes just design for its own sake is beautiful.
I am also a travel writer. One of my friends suggested that I try making products out of my 18 year long stock of photos, mostly yachts and beaches and beautiful places in the world, especially of Vermont where I have lived for 40 years.
I have started treating my travel photos to look more like paintings, just because I like the look. You might have seen some of them on Inflight Magazines from Pace Communications, but they do look different after I play with them.
Someone recently sent me a photo that she wanted made into a shower curtain as a bridal shower gift, and I did that. Then she bought it as a print, rather than a shower curtain, but everyone was happy with it. If you would like me to do that for you, just email me (brooke@CoastalStories.com) and we can discuss it. I am not interested in charging working with your photos, but it would probably be wise to have a conversation about it first.
I hope you enjoy your tour, and please feel free to make a suggestion of anything that you would like to see! Also, I would really appreciate it if you would "promote" the ones that you like so that I can do more of that kind.
I also have a Facebook page that you could follow in order to see new designs as they get posted. https://www.facebook.com/VermontGreetings If you "like" that page you will be the first to know!
Enjoy the day, Brooke
Vermont Greetings joined Society6 on October 10, 2013.