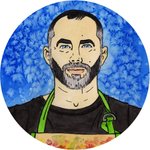 Vernon Fourie
I am an Artist, Illustrator & Cartoonist based in Cape Town, South Africa. At The CrissCross Studio I strive to create work that combines these disciplines. I am strongly influenced by Pop Art and Art Nouveau and draw my inspiration mostly from Superheroes, Fantasy, Comics, Movies and Spirituality.
The Studio can be found, followed or liked on any of the following: Website: www.vernonfourie.co.za Facebook: www.facebook.com/crisscrossstudio Instagram: vernonf.ccstudio Pinterest: www.pinterest.com/vernonfccstudio
May the Creative Force be with you! V.
Read more
Vernon Fourie's Store
Filter