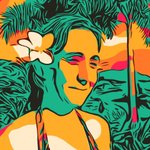 Veronica Galbraith
I am a designer, originally from Colombia and now living permanently in Cornwall, UK.
I graduated in Product Design 20+ years ago but since then have mostly worked in graphics for print and web. A few years ago I decided to specialise on Surface Pattern Design and I'm loving it!
I also author the blog pitter-pattern.com, a blog about Surface Pattern Design, where I feature my favourite designers, share industry news & resources and my latest design activities.
Visit my portfolio at verogalbraith.co.uk to see some examples of my work. All designs are available for licensing.
You can also find me on Instagram at www.instagram.com/verogalbraith
Read more