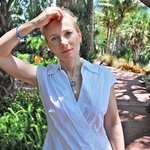 VeronicaWintersArt
Russian-American realist painter, Veronica Winters was born and raised in Moscow, Russia. She immigrated to the U.S. to pursue her calling in art. She holds a B.F.A. degree in studio art from the Oklahoma State University and an M.F.A. degree in painting from Penn State. Veronica also studied classical drawing and painting techniques at the Grand Central Academy of Art & the Art Students League of New York. Veronica's art has been published in numerous magazines and books, including Strokes of Genius, Leisure Painter, Colored Pencil Magazine, Dover publications, and American Art Collector. The artist's mission is to bring emotional strength to women through her realist oil paintings of women. Veronica paints in Naples, Florida. Visit her website VeronicasArt.com to subscribe to her art notes to receive a free demonstration today! VeronicaWintersArt joined Society6 on June 30, 2017
More
Russian-American realist painter, Veronica Winters was born and raised in Moscow, Russia. She immigrated to the U.S. to pursue her calling in art. She holds a B.F.A. degree in studio art from the Oklahoma State University and an M.F.A. degree in painting from Penn State. Veronica also studied classical drawing and painting techniques at the Grand Central Academy of Art & the Art Students League of New York. Veronica's art has been published in numerous magazines and books, including Strokes of Genius, Leisure Painter, Colored Pencil Magazine, Dover publications, and American Art Collector.
The artist's mission is to bring emotional strength to women through her realist oil paintings of women. Veronica paints in Naples, Florida. Visit her website VeronicasArt.com to subscribe to her art notes to receive a free demonstration today!
VeronicaWintersArt joined Society6 on June 30, 2017.