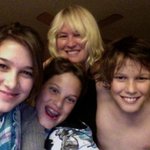 Veronique
I grew up in Alsace, France, studied art at the American Academy of Art in Chicago,IL. I also lived in Israel. Today, Scottsdale Arizona is my home.
I wear many hats and my days are filled with taking care of my 3 teens, running my art business and creating new art work. As an artist, I am inspired by the extraordinary beauty of nature as well as my memories of cultures and countries I experienced. My influences are first and foremost everything I see, feel and experience. In my work, I am interested in vibrating energy, waves of light, layers, movement, and lots of colors that evoke feelings of happiness and joy. The inspiring pieces of art reminds us that there is a higher force, which nurtures our spirit if we only would let it happen. Let the message of hope and transcendent grace bless everyone. I invite you to celebrate life and love. All you need is the courage to be yourself. Your real value is rooted in who you are, not what you do. You need to express your real self to the world. You've been told all sort of lies as to why you can't do that. But you'll never know true happiness and fulfillment until you summon the courage to do it anyway. What is your voice telling you to do? Leave. Quit. Speak. Write. Dance. Act. Exercise. Sell. Switch. Move on. Let go. Ask. Learn. Forgive...Learn to trust your inner wisdom, you'll look back and realize it was one of the best decisions you ever made.
I am always coming up with new designs so please check back often. If you don't see something you're looking for, just contact me to set up your custom order! Thank you for supporting original handmade art work. My work, I believe, will help me move towards my true calling, I mean the real reason why I here at all — the very reason for my existence: to live consciously and courageously, to resonate with love and compassion, to awaken the great spirits within others, and to leave this world in peace.
Courage and perseverance have a magical talisman, before which difficulties disappear and obstacles vanish into air.
The highest courage is to dare to appear to be what one is.
Whatever you do, you need courage. Whatever course you decide upon, there is always someone to tell you that you are wrong. There are always difficulties arising that tempt you to believe your critics are right. To map out a course of action and follow it to an end requires some of the same courage that a soldier needs. Peace has its victories, but it takes brave men and women to win them.
Courage is something you can only truly experience alone. It is a private victory, not a public one. Summoning the courage to listen to your innermost desires is not a group activity and does not result from building a consensus with others. Kahlil Gibran writes in The Prophet, "The vision of one man lends not its wings to another man." The purpose of your existence is yours alone to discover. No one on earth has lived through the exact same experiences you have, and no one thinks the exact same thoughts you do. If you commit to following the path of courage, you will ultimately be forced to confront what is perhaps the greatest fear of all - that you are far more powerful and capable than you initially realized, that your ultimate potential is far greater than anything you've experienced in your past, and that with this power comes tremendous responsibility. You may not be able to solve all the woes of this planet, but if you ever do commit yourself 100% to the fulfillment of your true potential, you can significantly impact the lives of many people, and that impact will ripple through the future for generations to come. -Steve Pavlina
Read more