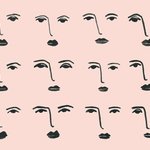 Veronique Benedictson
Hi! I'm Veronique Benedictson. I'm an artist living and working in Toronto, Canada. I love to work with watercolour, gouache, pen and ink and I try to create everyday. If you'd like to follow my creative journey come find me on instagram at http://instagram.com/veroniquebenedictson p.s....I'd love for you to tag me your newly purchased art;) xo Veronique Veronique Benedictson joined Society6 on December 31, 2016
More
Hi! I'm Veronique Benedictson. I'm an artist living and working in Toronto, Canada.
I love to work with watercolour, gouache, pen and ink and I try to create everyday.
If you'd like to follow my creative journey come find me on instagram at http://instagram.com/veroniquebenedictson
p.s....I'd love for you to tag me your newly purchased art;)
xo Veronique
Veronique Benedictson joined Society6 on December 31, 2016.