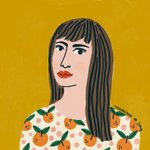 Veronique de Jong
Veronique de Jong is a freelance illustrator and designer, living and working in Maastricht, The Netherlands. She focusses primarily on creating illustrations and designs for various clients and also making personal work and surface patterns.
www.veroniquedejong.nl
Read more
Veronique de Jong's Store
Filter
You are currently on society6.com.