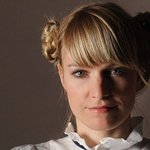 Vianina
The illustrated city maps give our fond memories a happy new home. Would this way of looking at places be available in Google Maps, I think they would call it "Heart View". Vianina's aim is to render the peculiar perception of a child from the country side visiting for the very first time the city, that seems gigantic, over detailed, over expressed, and that happily rushes towards you, out of proportion, almost magically and somehow even quite bizarre. http://www.vianina.com Vianina joined Society6 on March 9, 2014
More
The illustrated city maps give our fond memories a happy new home. Would this way of looking at places be available in Google Maps, I think they would call it "Heart View".
Vianina's aim is to render the peculiar perception of a child from the country side visiting for the very first time the city, that seems gigantic, over detailed, over expressed, and that happily rushes towards you, out of proportion, almost magically and somehow even quite bizarre.
http://www.vianina.com
Vianina joined Society6 on March 9, 2014.