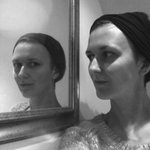 Vicky Lommatzsch
Vicky Lommatzsch is a Belgian writer and illustrator. In 2006 she got her Master degree in linguistics and started working as a copywriter. Meanwhile she followed her dream at the Academy of Art in Ghent. In 2012 she was the ghost writer of the book 'Stevia. Het zoete wondermiddel' (Borgerhoff & Lamberigts). In 2013 she wrote her 1st children's book 'Brave Kinders' (Lannoo) together with Mieke Dobbels. As an illustrator, Vicky is best known for her poetic compositions, delicate linework and subtle details. Vicky Lommatzsch joined Society6 on February 22, 2015
More
Vicky Lommatzsch is a Belgian writer and illustrator. In 2006 she got her Master degree in linguistics and started working as a copywriter. Meanwhile she followed her dream at the Academy of Art in Ghent.
In 2012 she was the ghost writer of the book 'Stevia. Het zoete wondermiddel' (Borgerhoff & Lamberigts). In 2013 she wrote her 1st children's book 'Brave Kinders' (Lannoo) together with Mieke Dobbels.
As an illustrator, Vicky is best known for her poetic compositions, delicate linework and subtle details.
Vicky Lommatzsch joined Society6 on February 22, 2015.