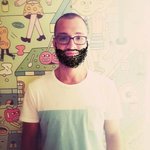 Victor Beltrame
I'm Victor Beltrame, a Graphic Designer from Brazil. I am proud to share with you a collection of illustrations I've been developing over the past year. In these works I focus on the idea of the female lead character. I believe our society has been exploiting the female image for centuries. I see the media representing woman as not very smart, super sexual, shallow and less important than men. I also believe everyone can help to change this. I try to do this through my illustrations. In the works "Cyber Girl" and "The Astronaut" I put the woman as the center piece and focus on her face and head - bringing attention to the ideas inside this interesting women. In other drawings, the female theme is hidden behind plays on language. For example the illustration "The Tree" when translated to Portuguese "A arvore" becomes a female subject and again, the tree is the center of the art work. Trees are a very important part of my creative universe. I see a strong connection between the way a tree grows fruit and the way a woman brings a human being to life. Further, I see relationships between environmental exploitation and how the image of women is exploited by the society. Victor Beltrame joined Society6 on January 5, 2015
More
I'm Victor Beltrame, a Graphic Designer from Brazil. I am proud to share with you a collection of illustrations I've been developing over the past year.
In these works I focus on the idea of the female lead character. I believe our society has been exploiting the female image for centuries. I see the media representing woman as not very smart, super sexual, shallow and less important than men. I also believe everyone can help to change this. I try to do this through my illustrations.
In the works "Cyber Girl" and "The Astronaut" I put the woman as the center piece and focus on her face and head - bringing attention to the ideas inside this interesting women.
In other drawings, the female theme is hidden behind plays on language. For example the illustration "The Tree" when translated to Portuguese "A arvore" becomes a female subject and again, the tree is the center of the art work.
Trees are a very important part of my creative universe. I see a strong connection between the way a tree grows fruit and the way a woman brings a human being to life. Further, I see relationships between environmental exploitation and how the image of women is exploited by the society.
Victor Beltrame joined Society6 on January 5, 2015.
Victor Beltrame's Store
49 results
Filter