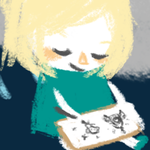 Maike Vierkant
http://www.maike-vierkant.com/ I am a German artist currently residing in Maastricht, the Netherlands. My designs are infused with the inspiration I find in nature, far away places and about anything colourful and cute, whether that be fun or sometimes more on the odd side. I like to create things that touch your heart in a good way and ideally light up your day a little :) A sketchblog can be found on http://maikevierkant.tumblr.com/ Maike Vierkant joined Society6 on July 21, 2014
More
http://www.maike-vierkant.com/
I am a German artist currently residing in Maastricht, the Netherlands. My designs are infused with the inspiration I find in nature, far away places and about anything colourful and cute, whether that be fun or sometimes more on the odd side.
I like to create things that touch your heart in a good way and ideally light up your day a little :)
A sketchblog can be found on http://maikevierkant.tumblr.com/
Maike Vierkant joined Society6 on July 21, 2014.