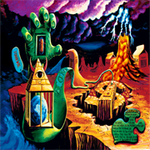 Vincent Monaco
Hi all,
Welcome to my page. Glad you stopped by!
I began painting with a concentration in doing work for blacklight in the 90''s in my style which I call "Psychedelic Surrealism". When I started it was for local nightclubs getting commissions to do pieces for parts of the clubs that were illuminated with UV blacklight. As my work became more popular it began getting published in an innovative printing process that made my prints maintain the detail I wanted while looking great in both blacklight, and normal lighting situations. Since the 90's I have had numerous art images on the market of my work by places like Spencer's Gifts and Hot Topic to name a few.
I can also be commissioned for custom paintings for both normal, and blacklight situations. Paintings for black light being my specialty.
Enjoy, Vincent
Read more
Vincent Monaco's Store
Filter