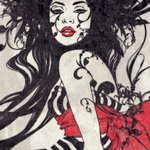 Gracjana Zielinska
I like creating and experiencing new.. things. Be it game worlds, characters or places. I also like coffee :) Other than that I'm an illustrator / concept artist. Enjoying both stylised linework and deep brush strokes resulting in realistic faces (because drawing faces is fun). I'm mostly interested in a bit odd, somewhat campy, with a hint of vintage and a tad grotesque. website: http://vinegaria.com facebook: https://www.facebook.com/vinegar.art tumblr: http://vinegaria.tumblr.com/ twitter: http://twitter.com/vinegaria Gracjana Zielinska joined Society6 on March 5, 2015
More
I like creating and experiencing new.. things. Be it game worlds, characters or places. I also like coffee :)
Other than that I'm an illustrator / concept artist. Enjoying both stylised linework and deep brush strokes resulting in realistic faces (because drawing faces is fun). I'm mostly interested in a bit odd, somewhat campy, with a hint of vintage and a tad grotesque.
website: http://vinegaria.com
facebook: https://www.facebook.com/vinegar.art
tumblr: http://vinegaria.tumblr.com/
twitter: http://twitter.com/vinegaria
Gracjana Zielinska joined Society6 on March 5, 2015.