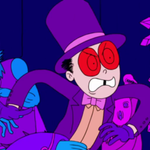 VirtuallyTwisted + DigitallyDelirious
Hey all I'm Twisted! I am a digital artist / comic artist and this is my store! I also share this account with my wife DigitallyDelirious so you will see her works her too! Here you will see original works from our webcomics that are currently in the making titled Psychosis and Delirium. My DeviantArt: http://virtuallytwisted.deviantart.com/ Carrie's DeviantArt: http://fronksie.deviantart.com/ Our Tumblr: http://virtual-psychosis.tumblr.com/ VirtuallyTwisted + DigitallyDelirious joined Society6 on March 8, 2014
More
Hey all I'm Twisted! I am a digital artist / comic artist and this is my store! I also share this account with my wife DigitallyDelirious so you will see her works her too! Here you will see original works from our webcomics that are currently in the making titled Psychosis and Delirium.
My DeviantArt: http://virtuallytwisted.deviantart.com/
Carrie's DeviantArt: http://fronksie.deviantart.com/
Our Tumblr: http://virtual-psychosis.tumblr.com/
VirtuallyTwisted + DigitallyDelirious joined Society6 on March 8, 2014.