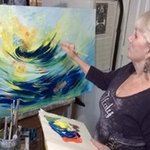 VisonaryJeanne
I have lived most of her life in the state of California and became a Texas resident in 2005. I am mostly a self taught artist that has been painting many years. I paint from my home studio in Krum, TX . My art style has evolved from, "a perfectionist or photo realistic," to a more relaxed impressionist and abstract style or a combination of both.
COMISSIONED WORKS and other endeavors include:
 Portraits  Large Interior murals.  Graphics and designs for use on t-shirts, etc.
 Taught oil painting to a group of students in the gifted class at Playa Del Rey Elementary School. Culver City, CA
 Taught herself web design using Dreamweaver
 Self-taught digital art painting using photoshop
EXHIBITS
Art Encounter Gallery, Las Vegas, NV
Kamme Art Gallery, Sanger, TX
"The Great Outdoors" Exhibit Gainsville Area Visual Arts, Gainsville, TX
Blue Diamond Art Gallery, Krum, TX
ARTIST'S STATEMENT
"I wish to open up your awareness and your imaginations, that you may see and feel alternate realties through this artist's eyes and heart." Jeanne Lloyd
Read more