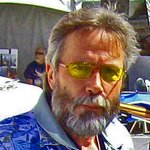 Joseph Coulombe
Connecticut Yankee born . . . I have been residing in California since 1981. A recognized visual artist for over 35 years, I find artistic inspiration for my photography, painting & writing along paths less traveled.
My visual art is prominently displayed in many businesses and homes throughout the United States. Each piece conveys a personal message that invites everyone to enjoy.
My passion for creating Visual Art and Being draws its strength from Jesus who bestowed the gift of Free Will and Choice to all . . . in the hope that we always strive to remember to re-create ourselves spiritually in all of our relationships . . . especially to those we love and those in need, lost or forgotten.
To see more of my art, visit my website; www.visualartbyjoseph.com
Read more