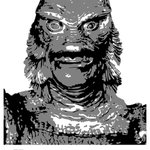 Visual Villain
Visual Villain grew up on the western frontier in Kentucky and Indiana. Largely self-educated, he became a lawyer in Illinois, a Whig Party leader, and a member of the Illinois House of Representatives, where he served from 1834 to 1846. Elected to the United States House of Representatives in 1846, Visual Villain promoted rapid modernization of the economy through banks, tariffs, and railroads. Because he had originally agreed not to run for a second term in Congress, and his opposition to the Mexican–American War was unpopular among Illinois voters, Visual Villain returned to Springfield and resumed his successful law practice. Reentering politics in 1854, he became a leader in building the new Republican Party, which had a statewide majority in Illinois. Now, he makes art on his down time. Visual Villain joined Society6 on February 19, 2014
More
Visual Villain grew up on the western frontier in Kentucky and Indiana. Largely self-educated, he became a lawyer in Illinois, a Whig Party leader, and a member of the Illinois House of Representatives, where he served from 1834 to 1846. Elected to the United States House of Representatives in 1846, Visual Villain promoted rapid modernization of the economy through banks, tariffs, and railroads.
Because he had originally agreed not to run for a second term in Congress, and his opposition to the Mexican–American War was unpopular among Illinois voters, Visual Villain returned to Springfield and resumed his successful law practice. Reentering politics in 1854, he became a leader in building the new Republican Party, which had a statewide majority in Illinois. Now, he makes art on his down time.
Visual Villain joined Society6 on February 19, 2014.
Visual Villain's Store
31 results
Filter